Tremendous chaos of names that we will try to explain. Fisker Automotive was an American manufacturer whose only care was the Fisker Karma, one of the world's first plug-in hybrids that went on sale in 2012. Already in 2013, Fisker declared bankruptcy and the Chinese came to buy the company with the aim to relaunch the brand and new cars. This is how Karma Automotive was born, who just presented the Karma SC1 Vision Concept, which will be the company's first electric car. Clarified the point, the Karma SC1 Vision presents us with an electric sports car that stands out for having doors with vertical opening design, and which they describe as a "statement on the direction of Karma's future product offering both in technology as in design. "
Also equipped with autonomous driving technology
After the bankruptcy of Fisker, all of the manufacturer's assets, including the A123 battery supplier, were acquired by the Wanxiang Group, a Chinese auto parts conglomerate, and put in charge Dr. Lance Zhou, the current CEO of Karma Automotive. A curious point is that the company continues to promote itself as an American when almost all its ties are with China.
During the next Pebble Beach Elegance Contest, which will be held in a few days, Karma will show the world this Karma SC1 Vision Concept. Although it is a concept that does not yet have plans to go to production, it shows us the design and technology lines that the manufacturer is adopting for its future projects.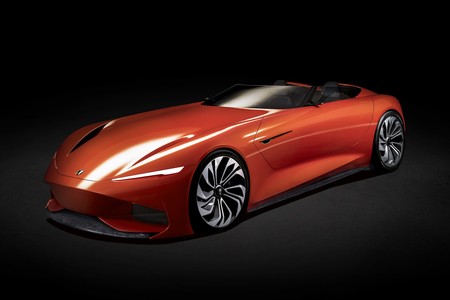 The company has not offered technical specifications of this SC1 Vision, but it did advance technological aspects that prepare it for the future as it would also be ready to equip an autonomous driving platform , according to Karma.
For this reason, it is said that it will have 5G connectivity, which will be available both V2V communications and for the infotainment system and OTA updates, screens and touch interfaces, as well as an artificial intelligence platform to manage an eye and voice tracking system .
According to Karma, the car will integrate a camera in the cabin, just in front of the driver, which will be used to monitor their activity according to their eyes , from eyes and eyelids, to determine if the person is fatigued or in conditions to take care of the vehicle . If an anomaly is detected, the car would stop and call the assistance services.
In addition to this, the SC1 Vision would have eight radars, six Lidar sensors and six external cameras , which would give the car a high level of autonomy. Of course, when the software is ready, since Karma has not given details of the level of autonomy it would have.
Dr. Lance Zhou, CEO of Karma, mentioned:
"The SC1 is a sign of Karma's future. Designed and manufactured in less than 12 months, the SC1 is a full-battery electric vehicle that explores the brand's striking design language and the integration of innovative technology possible through our open platform collaboration strategy ".
In the coming days it is expected to have more details of this and the other two Karma cars, which will go on sale, as well as the company's plans for the coming years.